I finally got round to seeing the Damien Hirst exhibition at the Tate Modern!
Although I'm not a fan of much of his work (the controversial question "What is art?" comes to mind here...), I thought this exhibition would be a great way to see Hirst's work in the flesh (literally!) which I've never had a chance to do before. I was looking forward to seeing Hirst's butterfly paintings the most, close-ups of which were used on the advertisement posters.
From a distance, Hirst's butterfly paintings look like photos or glass windows. The perfectly symmetrical patterns are beautiful and entrancing. The fact that they were made of real butterfly wings could be distressing for some, however the ethical aspect didn't really come to mind when I was looking at such a visual, awe-inspiring piece with so many capturing details. My favourite is the minimalistic in design, circular arrangement of blue and white wings:
Symphony in White Major.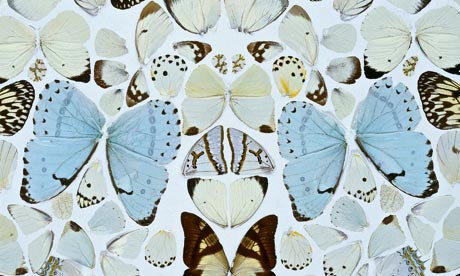 Then, while reading
Design Sponge blog
, I came across
a post on Canadian illustrator Sarah Burwash.
Her illustrations of small objects in a circle reminded me of Hirst's piece above. Collecting tiny yet detailed items in this arrangement is not just unusual, defying the regular rectangular composition of artwork, but is visually pleasing too. Everything is kept neat, tidy and documentary - alluding to samples kept in Natural History Museums. The subjects become items for closer investigation, rather than becoming meaningless drawings.
Take a look at a few of Sarah Burwash's beautiful illustrations: